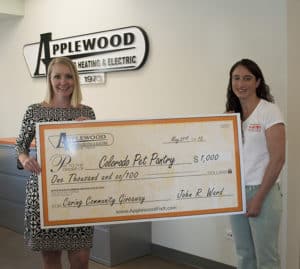 The Colorado Pet Pantry is a food bank for family pets. They temporarily feed Colorado pets, allowing families to increase their ability to care for pets with the goal of keeping them out of shelters and with their families. The organization began in 2013 with a pet food bank at one "human" food bank partner. In 2015, they have already grown to five monthly food bank partners.
"Applewood is proud to partner with this organization," said John Ward, Applewood Plumbing Heating & Electric president. "Their work is admirable and we are excited to be able to help them expand their efforts to help more pets and families in need."
The Colorado Pet Pantry partners with and distributes directly out of "human" food banks because they have an established relationship with the neighborhoods, and they can leverage their administrative processes and their buildings. Additionally, the availability of pet food helps to ensure that the already limited "human" food is reserved for the humans and pets receive balanced meals.
"In 2014, our volunteers gave 1,100+ hours to distribute 30,553 pounds of pet food, helping 1,500 families in the Denver/Boulder-metro area to feed 3,296 pets," said Eileen Lambert, founder of Colorado Pet Pantry.
The $1,000 will allow the organization to expand its services and will help feed 250 additional pets. "Every dollar donated to the Colorado Pet Pantry is worth $5 in pet food. Combine that with the fact that your donation helps a pet stay with its family – keeping the dog or cat out of the shelter where it would need to be housed, fed, walked, cared for, and rehomed," said Eileen.  
Over the past nine years, Applewood has given more than $95,000 in giveaways to charities and nonprofits in the Denver area.